StreetLight Mission
908-820-8324
Elizabeth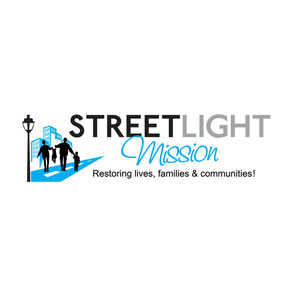 StreetLight Mission is a faith-based community outreach center located in the inner city of Elizabeth, NJ. We serve people struggling with poverty, mental illness, substance abuse, and most of all hopelessness.
The heart of StreetLight Mission is to help each person become a positive contributing member of their family and the community in which they live.
Clothing
StreetLight Mission provides guests with everyday clothing items such as pants, shirts, sweatshirts, work boots and underwear. In colder weather we provide coats and other winter necessities such as blankets, gloves and hats. Toiletry kits are also provided to those with need. The Mission has referral information for guests who need work or dress clothing.
School Supplies
Each August we distribute new backpacks filled with school supplies for children returning to school in the fall.
Employment Assistance
StreetLight Mission provides employment assistance and referrals to those looking for jobs.
We also assist guests in creating and printing resumes and job search correspondence. Guests without addresses may use StreetLight Mission to receive correspondence relative to prospective employment. Guests may use the Career Center to access computers and the Internet to execute job searches. The Mission will refer guests to GED, ESL, basic computer skills classes and other career training. Where possible, the Mission will connect guests with prospective employers.
Food Pantry
The StreetLight Food Pantry served approximately 2,000 households in 2012. This equated to 21,000 food pantries. While operating under other names the food pantry has been providing groceries since July of 1997.
We assist guests in accessing food stamps, food pantries and meals from other resources.
Nutritious Lunch/Snack Bags
Presently, the StreetLight Food Pantry distributes an average of 890 nutritious Lunch/snack bags each month. For many people this is the only food they will have for the day.
Meals
For the past 10 years we have provided a light dinner on Sunday evenings. These meals are prepared by various groups once a month.
Recovery Services
For 17 years we have been helping people access and sustain long-term recovery from drugs and alcohol. We refer 150 guests each year to appropriate detox and rehabilitation services. We assist guests by providing transportation to access recovery services. We also host a Celebrate Recovery meeting on Wednesday nights at 6:00 pm. Click here for more information.
Social Supports
To sustain a new lifestyle, old destructive relationships and habits must be abandoned and replaced with new supportive friendships. Healthy ways of having fun must be learned. This is critical to sustaining change.
We open for weekly events several hours early to provide a warm place for people to have a cup of coffee, a snack and socialize. We show movies and provide games for those interested. See calendar for upcoming events. We host block parties and picnics at parks. Holidays can be depressing without the love and support of family. We provide celebrations throughout the year. More than 200 volunteers host our annual Christmas party where more than 600 guests are served a delicious sit down dinner complete with music, carols and loads of fun.
StreetLight, Inc. also provides: Mentoring, housing, and mentoring services.
Eligibility
Elizabeth / Union county residents Free service
Age Groups

Children
Adolescents
Adults
Seniors

Community Services

Basic Needs / Assistance

Community

Employment / Training

Family & Support Services

Seasonal Programs

Spiritual / Cultural

Payment Options
Last Updated: 01/25/16