Plainfield In-Person Summer Learning Camp Registration is Open
Thursday, April 21 -
Thursday, May 26, 2022
8:00 AM
Plainfield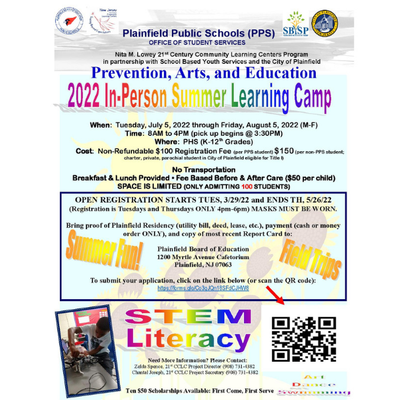 In need of a summer camp for youth between k-12th grade who reside in Plainfield? Well, registration is open. The summer camp will take place from July 5th, 2022 to August 5th, 2022 and will be from Monday through Friday from 8 to 4 pm. Pick up will begin at 3:30 pm and the camp will take place at Plainfield Highschool.
This in-person summer learning camp is available to all students between the K- through 12 grades. However there is a limited amount of seats for up to 100 students, so register as soon as you can.
Cost:
-non-refundable $100 registration fee per student that attends a public Plainfield school
-non-refundable $150 registration fee for non-public Plainfield students (such as those enrolled in charter, private, parochial students).
Services provided:
There will be no transportation provided however there will be breakfast and lunch. There will also be before and aftercare available. However please speak to Zelda Spence or Chantal Joseph for more information.
Deadlines & Requirements:
Registration ends 5/26/22 and is held in person only on Tuesdays, and Thursdays from 4:00 to 6:00 pm. Please bring proof of Residency (utility bill, deed, lease, etc.), payment (cash), and a copy of the student's most recent report card to 1200 Myrtle Avenue Cafetorium Plainfield NJ 07063.
Click on the link attached to this listing to complete the online application portion.
*******************************
¿Necesita un campamento de verano para jóvenes entre los grados k-12 que residen en Plainfield? Bueno, el registro está abierto. El campamento de verano se llevará a cabo del 5 de julio de 2022 al 5 de agosto de 2022 y será de lunes a viernes de 8 a 4 pm.
La recogida comenzará a las 3:30 pm y el campamento se llevará a cabo en Plainfield Highschool. Este campamento de aprendizaje de verano en persona está disponible para todos los estudiantes entre los grados K-12. Sin embargo, hay una cantidad limitada de asientos para hasta 100 estudiantes, así que regístrese lo antes posible. Costo: -cuota de inscripción no reembolsable de $100 por estudiante que asiste a una escuela pública de Plainfield -Tarifa de inscripción no reembolsable de $150 para estudiantes no públicos de Plainfield (como aquellos inscritos en estudiantes chárter, privados y parroquiales). Servicios prestados: No se proporcionará transporte, sin embargo, habrá desayuno y almuerzo. También habrá cuidado antes y después disponible. Sin embargo, hable con Zelda Spence o Chantal Joseph para obtener más información.
Plazos y requisitos: La inscripción finaliza el 26/05/22 y se lleva a cabo en persona solo los martes y jueves de 4:00 p. m. a 6:00 p. m. Traiga prueba de residencia (factura de servicios públicos, escritura, contrato de arrendamiento, etc.), pago (efectivo) y una copia de la boleta de calificaciones más reciente del estudiante a 1200 Myrtle Avenue Cafetorium Plainfield NJ 07063.
Haga clic en el enlace adjunto a esta lista para completar la parte de la solicitud en línea.
Age Groups
Community Services

Education

Seasonal Programs
Last Updated: 04/21/22