Register for Summer Camp at Rabkin Park
Monday, June 27 -
Friday, August 5, 2022
Union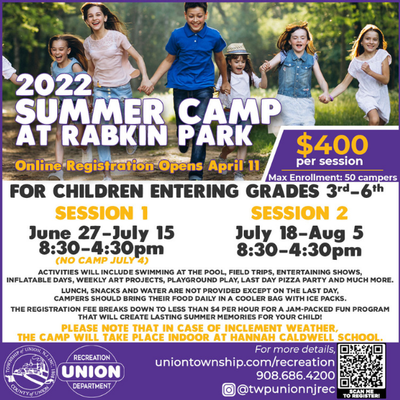 The Township of Union County is hosting a Summer Camp at Rabkin Park that is being offered in two sessions. The first session will be offered from June 27 to July 15 and the second session will be offered from July 18 to August 5th. Both camp sessions run from 8:30 to 4:30 pm.
This is for children in grades 3rd to 6th!
Activities will include swimming, field trips, entertaining shows, art projects, playground play, and much more.
The total cost for each session is $400.00, which comes down to less than $4.00 per hour!
Please see the flyer for details about lunch.
To register, visit the website link attached to this posting and create an account. Once the account is created, you can register for session 1 or 2 or both and pay online.
****************************
El municipio del condado de Union está organizando un campamento de verano en Rabkin Park que se ofrece en dos sesiones. La primera sesión se ofrecerá del 27 de junio al 15 de julio y la segunda sesión se ofrecerá del 18 de julio al 5 de agosto.
Ambas sesiones de campamento se llevan a cabo de 8:30 a 4:30 p. m. ¡Esto es para niños en los grados 3 a 6! Las actividades incluirán natación, excursiones, espectáculos de entretenimiento, proyectos de arte, juegos en el patio de recreo y mucho más.
El costo total de cada sesión es de $400,00, lo que equivale a menos de $4,00 por hora. Consulte el folleto para obtener detalles sobre el almuerzo.
Para registrarse, visite el enlace del sitio web adjunto a esta publicación y cree una cuenta. Una vez creada la cuenta, puede registrarse para la sesión 1, 2 o ambas y pagar en línea.
Community Services

Arts & Recreation

Seasonal Programs

Payment Options

Low Cost / Donation
Self Pay
Last Updated: 04/25/22