The Connection Summer Camp
Monday, June 20 -
Friday, August 19, 2022
9:00 AM - 5:00 PM
Summit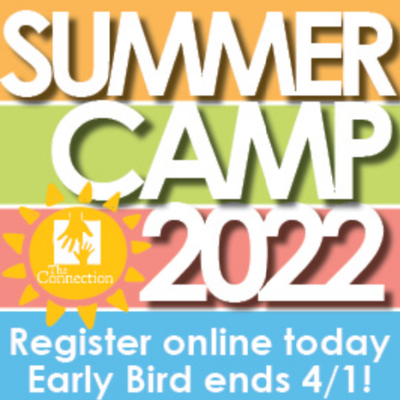 The Connection is offering Summer Camp Registration Early Bird Special with discount code EARLY to save $20.00 from registration until April 1st!!
The Connection's summer camp is committed to providing campers with excellent recreational, educational, and fun experiences while creating a memorable summer in a physically and emotionally safe environment. Campers will make friends, gain self-confidence, learn to work together, and acquire new knowledge and experiences.
To ensure the safety of our campers, staff, and families, all camps will follow COVID-19 standards and guidelines from the New Jersey Dept. of Health, CDC, and American Camp Association (ACA).
All families must complete the 'Mandatory camp form' highlighted in green in the registration link.
Please only fill out forms once per child, regardless of the number of camps.
The connection offers summer camp programs for children ages 3 to 8+! Check out their website for more information!
This program runs 9 weeks from June 20 to August 19 and financial assistance is available.
********************
¡The Connection está ofreciendo inscripción anticipada al campamento de verano especial con código de descuento TEMPRANO para ahorrar $20.00 desde la inscripción hasta el 1 de abril!
El campamento de verano de The Connection se compromete a brindar a los campistas excelentes experiencias recreativas, educativas y divertidas mientras crean un verano memorable en un entorno seguro física y emocionalmente. Los campistas harán amigos, ganarán confianza en sí mismos, aprenderán a trabajar juntos y adquirirán nuevos conocimientos y experiencias.
Para garantizar la seguridad de nuestros campistas, personal y familias, todos los campamentos seguirán los estándares y las pautas de COVID-19 del Departamento de Salud de Nueva Jersey, los CDC y la Asociación Estadounidense de Campamentos (ACA). Todas las familias deben completar el 'Formulario de campamento obligatorio' resaltado en verde en el enlace de registro. Solo complete los formularios una vez por niño, independientemente de la cantidad de campamentos.
¡The connection ofrece programas de campamentos de verano para niños de 3 a 8 años o más! ¡Visita su sitio web para más información!
Este programa tiene una duración de 9 semanas del 20 de junio al 19 de agosto y hay asistencia financiera disponible.
Age Groups
Community Services

Arts & Recreation

Seasonal Programs

Areas Served

Essex County
Morris County
Union County
Last Updated: 03/25/22