The Fatherhood Initiative
Monday, May 23, 2022
Meets Weekly
Elizabeth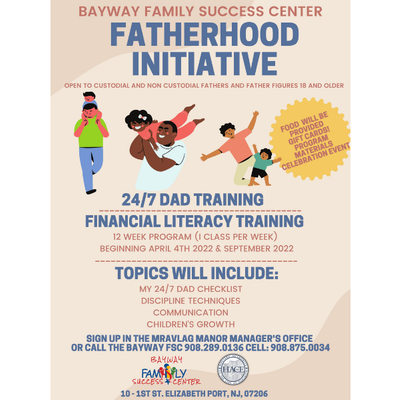 The Bayway Family Success Center is holding a Fatherhood Initiative Program where they will provide Financial Literacy Training and cover topics such as parenting techniques, communication, children's growth, and much more. This initiative program is open to all father figures, custodial and non-custodial fathers included.
This is a 12-week training program that has already begun but it's not too late to join! The current session began on April 4th and the next session will begin in September!
Food, gift cards, and program material will be provided!
To sign up, visit the Mravlag Manor Office or call the Bayway Family Success Center at 908-289-0136/ 908-875-0034.
Please note: The day of the week may be different from the day of the week listed on Union Resource Net. Please call BFSC to confirm the day of the week.
**************************
El Centro de Éxito Familiar de Bayway está llevando a cabo un Programa de Iniciativa de Paternidad donde brindarán Capacitación en Educación Financiera y cubrirán temas como técnicas de crianza, comunicación, crecimiento de los niños y mucho más.
Este programa de iniciativa está abierto a todas las figuras paternas, incluidos los padres con y sin custodia.
¡Este es un programa de capacitación de 12 semanas que ya comenzó, pero no es demasiado tarde para unirse!
¡La sesión actual comenzó el 4 de abril y la próxima sesión comenzará en septiembre! ¡Se proporcionará comida, tarjetas de regalo y material del programa!
Para inscribirse, visite la oficina de Mravlag Manor o llame al Bayway Family Success Center al 908-289-0136/ 908-875-0034.
Age Groups
Community Services

Education

Family & Support Services
Last Updated: 04/26/22