Virtual Kazoo Karaoke

-
This event has already occurred!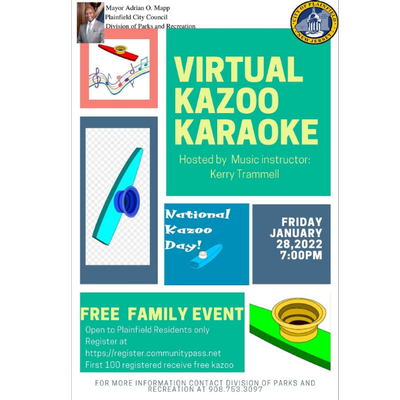 Are you interested in learning how to play the Kazoo? Said to originate from Africa, the Kazoo is a small and simple instrument to learn how to play. Save the date for January 28, 2022, at 7:00 pm where Mr. Trammell will be hosting a virtual Kazoo Karaoke!
Only open to Plainfield Residents and registration is required (check registration link). Attendees must register for a community pass with Plainfield first (the link will guide you once you enter Plainfield City, NJ).
The first 100 residents that register will get a free Kazoo. This event is also free of charge!
Age Groups

Children
Adolescents
Adults

Community Services

Arts & Recreation
Last Updated: 12/30/21