Sol Vida Counseling, LLC
(908) 328-6886
Hackettstown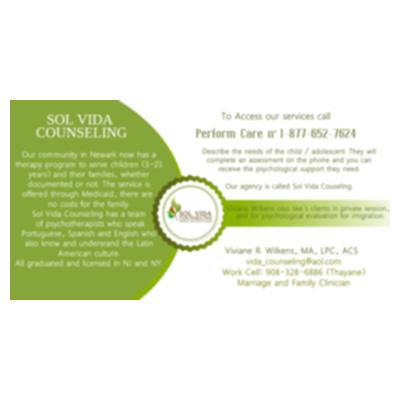 Sol Vida counseling has a team of psychotherapists who speak Portuguese, Spanish and English also know and understand the Latin American culture. All graduated and licensed in NJ and NY.
To access our services call Perform Care at 1-877-652-7624.
Describe the needs of the child/adolescent. They will complete an assessment on the phone and you can receive the psychological support they need.
Our agency is called Sol Vida Counseling.
Age Groups
Health Services

Behavioral / Mental Health

Crisis / Safety

Treatment Services

In-Community Services

Treatment Settings

Language Spoken
Areas Served

Essex County
Hudson County
Union County
Last Updated: 10/11/19