Tennis Lessons in Plainfield
Tuesday, July 5, 2022
6:00 PM - 8:00 PM
Plainfield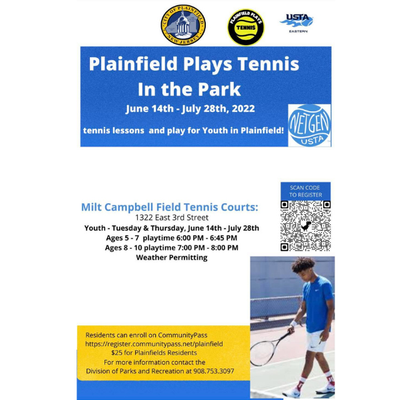 The City of Plainfield is offering Tennis Lessons and play for youth in Plainfield starting June 14th until July 28, 2022.
Lessons will take place at the Milt Campbell Field Tennis Courts on Tuesdays and Thursdays. Youth from ages 5-7 can play from 6 pm - 6:45 pm and youth ages 8-10 can play from 7 pm -8:00 pm while weather permits.
Residents may enroll on CommunityPass and fee is only $25.00 for Plainfield Residents at the website listed on this site.
For more information, you can contact the Division of Parks and Recreation at 908-753-3097.
| | |
| --- | --- |
| Community Services | Arts & Recreation |
| Payment Options | |
Last Updated: 06/02/22