Caring Contact
(908) 232-2880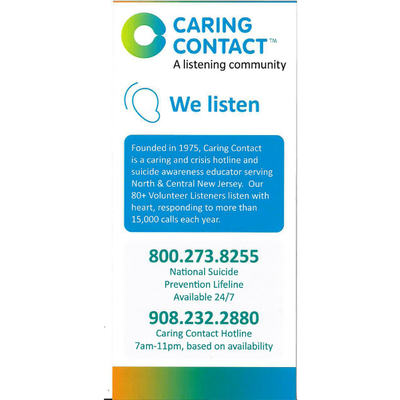 Caring Contact is a crisis hotline and suicide awareness educator serving North & Central New Jersey. There are about 80+ volunteer listeners that respond to more than 15,000 calls each year.
Caring Contact provides 76 hours of training and one on one support to all volunteer listeners in active listening and suicide intervention skills.
Caring Contact also supports individuals and group education in suicide intervention, preventing teen suicide, recognizing emotional distress, and the art of active listening.
They have a national and local level hotline available. The national hotline is 1-800-273-8255, and their local hotline is 908-232-2880.
Age Groups

Children
Adolescents
Adults
Seniors

Health Services

Crisis / Safety
Last Updated: 04/06/22