Hope Therapeutic Services, LLC
(862) 505-9191
West Orange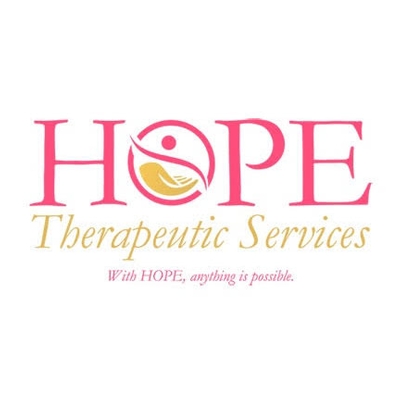 Hope Therapeutic Services is a privately owned Therapeutic Center. It was founded by Felicia Fdyfil, a Social Worker committed to helping individuals and families find hope in the power of building their own internal and external resources.
Felicia Fdyfil, LCSW is the Executive Director of Hope Therapeutic Services and a Licensed Clinical Social Worker (LCSW), who specializes in trauma-based treatment and working with adolescents and their families through individual and family therapy models. Hope Therapeutic Services is an Intensive In-Community and Behavioral Assistance Service provider within the Division of Children's System of Care (DCSOC). HOPE also provides mentoring services and facilitates an empowerment group.
Services:
Certified Teachers
Trauma (EMDR, TF-CBT, ARC Trauma Model)
CANS, ODD, ADHD
DCP&P Involvement
Motivational Interviewing
Empowerment Groups for Youth
Substance Abuse Evaluations & Fire Setting Evaluations
Legal Involvement/Court related Interventions
Crisis De-escalation
Risk Management
Anger Management
Genogram Work
Strengths and BioPsychoSocial Needs Assessments
Cultural Issues
HOPE provides comprehensive services for children and families in need. Therapeutic services are delivered to youth with behavioral health needs and are designed to help youth stabilize their home environment. Hope Therapeutic Services provides psychotherapy services at our office in Upper Montclair, NJ. Treatment, care and therapeutic services are provided in a context that is trauma focused, youth-centered, family-focused, strength-based, culturally-competent and responsive to each individual's psychosocial, developmental, and treatment care needs. We provide individual, family and group therapy for children, teens, adults, and their families in a therapeutic and nurturing environment.
We are highly skilled, caring professionals specializing in Trauma-Focused Therapy, Family Therapy, Behavior Modification Treatment, Play Therapy, and Grief Counseling. Afternoon and evening appointments are available.
Current Active MOU

Bergen CMO
Caring Partners of Morris & Sussex
Circle of Care for Families and Children (Passaic)
Coordinated Family Care (Middlesex)
Partnership for Children of Essex

Age Groups

Children
Adolescents
Adults
Seniors

Community Services

Employment / Training

Family & Support Services

Seasonal Programs

Health Services

Behavioral / Mental Health

Crisis / Safety

Intellectual and Developmental Needs

Treatment Services

In-Community Services

Outpatient Services

Treatment Settings

Home
In Community
Office / Practice
Outpatient, Hospital / Inpatient
Telehealth

Payment Options

Medicaid
Private / Commercial Insurance
Self Pay
Sliding Scale / Payment Plans
System of Care (CSOCI Medicaid / FlexFunds)

Language Spoken
Areas Served

Bergen County
Essex County
Hudson County
Middlesex County
Morris County
Passaic County
Sussex County
Union County
Last Updated: 10/05/23