Josephine's Place
(908) 436-0099
Elizabeth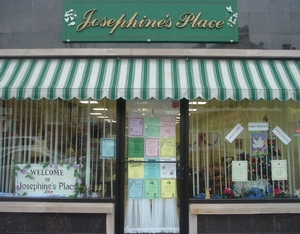 Josephine's Place is a storefront, drop-in space dedicated to the women of Elizabeth. Providing space that facilitates the empowerment of women. Building trust that promotes a freedom to be open and honest. Promoting an environment in which women are to be respected. Providing space that reflects the needs of women as they themselves have expressed.
The fulfillment of this mission will result in each woman having a sense of being respected, affirmed and supported.
A dedicated cadre of volunteers provides instruction in a variety of topics including computer literacy, crafts, English and exercise. Support groups for victims of domestic violence and parents of autistic children provide needed information and peer support. Most offerings are determined based on suggestions from women coming to the center. Once a suggestion is made, the women making the suggestion take the lead in recruiting additional participants, while the director secures the services of a volunteer to provide the instruction.
The 350 to 400 women who come to Josephine's Place each year do so because they feel safe and know that they will receive help. It is a space where women are affirmed and children are embraced with the development of skills that complement the learning of the women. Participants share stories, learn basic life skills together and feel that it is a "home"- their home and their children's home.
Programs & Activities
Programs and activities are designed by the desires and needs of the women of Josephine's Place. Some of the programs offered presently are:
Prayer
Resource Center for Networking Agencies
Support Groups for Mothers of Autistic Children
Support Groups for Victims of Domestic Violence
English Lessons
Parenting Groups
Health Education
Holiday Celebrations
Knitting
Quilting
Tai Chi
Yoga
Sewing
Dressmaking
Computer Classes
Art Workshops
Life Skills Workshops
Eligibility
Elizabeth resident
Age Groups
Community Services

Arts & Recreation

Basic Needs / Assistance

Community

Family & Support Services

Seasonal Programs

Payment Options
Language Spoken
Last Updated: 06/22/23