Personal Preference Program (PPP)
(609) 631-2481
Trenton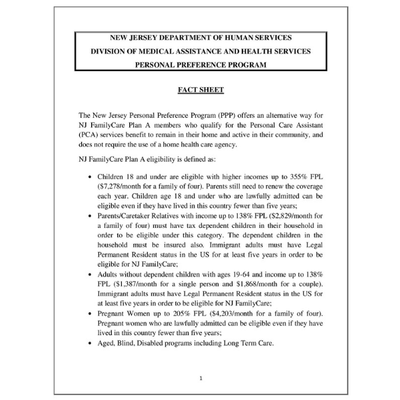 The Personal Preference Program (PPP) offers individuals with Medicaid insurance, who qualify for Personal Care Assistant Services, a way to direct and manage a monthly budget to receive counseling services in place of a traditional care assistant service provided through an agency. The family must be NJ Family Care Plan A eligible.
This program gives caregivers and caretakers more agency over the care of their loved ones. Through the PPP, you can direct and manage activities such as bathing, dressing, and feeding your loved one according to your preference by choosing who can come and take care of your loved one.
Your Managed Care Organization (MCO) such as Aetna, Amerigroup, Horizon, United Healthcare Community Plan, or Wellcare are responsible for enrolling, approving, and authorizing the number of Medicaid PCA hours you are eligible to receive per month.
***********************************
El Programa de Preferencia Personal (PPP) ofrece a las personas con seguro de Medicaid, que califican para los Servicios de Asistente de Cuidado Personal (PCA), una forma de dirigir y administrar un presupuesto mensual para recibir servicios de asesoramiento en lugar de un servicio de asistente de cuidado tradicional proporcionado a través de una agencia.
La familia debe ser elegible para el NJ Family Care Plan A.
Este programa brinda a los cuidadores y cuidadores más control sobre el cuidado de sus seres queridos. A través del PPP, puede dirigir y gestionar actividades como bañar, vestir y alimentar a su ser querido según sus preferencias, eligiendo quién puede venir y cuidar de su ser querido.
Su organización de atención administrada (MCO), como Aetna, Amerigroup, Horizon, United Healthcare Community Plan o Wellcare, es responsable de inscribir, aprobar y autorizar la cantidad de horas de PCA de Medicaid para qual eres elegible para recibir por mes.
For more information, call your MCO for assistance/ Para obtener más información, llame a su MCO para obtener ayuda:
Aetna 1-855-232-3596
Amerigroup 1-855-661-1996
Horizon NJ Health 1-855-465-4777
United Health Care 1-800-645-9409
Well Care 1-855-642-6185
You cal also call the PPP State Program Office Helpline Number: (609) 631-2481
Eligibility
Please see Fact Sheet for eligibility requirements.
Age Groups

Children
Adolescents
Adults
Seniors

Community Services

Family & Support Services

Health Services

Intellectual and Developmental Needs

Medical

Payment Options

Managed Care
Medicaid
State Funding
Last Updated: 05/13/22