Bayway Family Success Center: Active Parenting Classes
(908) 289-0136
Elizabeth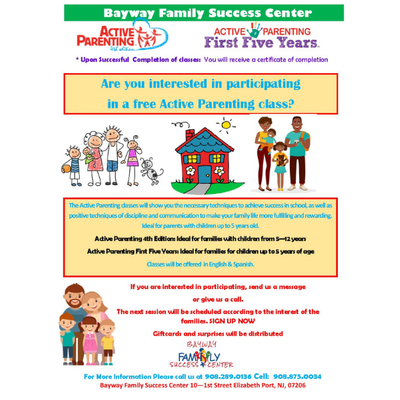 The Bayway Family Success Center is currently offering an active parenting class for parents with children up to 12 years old. This class will show parents techniques and strategies to help children succeed at school and in the community and will emphasize discipline and communication.
Classes will be offered in English and Spanish. If interested, please reach out to the Bayway Family Success Center at 908-289-0136.
**********************
El Bayway Family Success Center actualmente ofrece una clase de crianza activa para padres con niños de hasta 12 años. Esta clase mostrará a los padres técnicas y estrategias para ayudar a los niños a tener éxito en la escuela y en la comunidad y enfatizará la disciplina y la comunicación.
Las clases se ofrecerán en inglés y español. Si está interesado, comuníquese con Bayway Family Success Center al 908-289-0136.
Eligibility
Please call Bayway Family Success Center to confirm eligibility.
Age Groups

Children
Adolescents
Adults

Community Services

Family & Support Services

Payment Options
Last Updated: 09/08/23