United Way of Greater Union County
(908) 353-7171
Elizabeth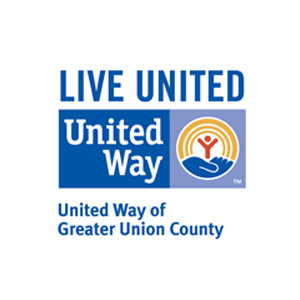 United Way of Greater Union County's goal is to improve lives and change conditions in our community by strengthening families; strong families are the foundation of a strong community.
Family Strengthening
"Family Strengthening" ensures that everyone in Greater Union County has the necessary opportunities, relationships, and networks to support the success of their family. We focus on Family Strengthening by advancing Education, Income, and Health throughout one's journey from Birth to Adulthood.
The Union County Family Strengthening Network (UCFSN) is a unique public–private partnership between United Way of Greater Union County, businesses, government, schools, faith-based and non-profit organizations, and foundations. The Union County Family Strengthening Network (UCFSN) partners work to break down barriers for families and create opportunities to ensure that every child succeeds every step of the way from birth to adulthood.
Designed to maximize and leverage all available resources within the County, the Union County Family Strengthening Network consists of Anchor Partners and Network Partners.
ANCHOR PARTNERS
An anchor partner has deep roots in its community. An anchor partner is a multi-service organization providing critical services associated with supporting families and children along the continuum of care from birth to adulthood.
Jefferson Park Ministries (Elizabeth)
Communities in Cooperation (Linden, Rahway)
Prevention Links (Roselle)
Proceed, Inc. (Elizabeth, Union)
Elizabeth Presbyterian Center (Elizabeth)
Elizabeth Coalition to House the Homeless (Elizabeth)
Plainfield Board of Education-Family Success Center (Plainfield)
The Connection for Women and Families (Summit)
Urban League of Union County (Elizabeth)
YMCA-EUC (Hillside)
The Partnership for Maternal and Child Health of Northern NJ
Community Resource Partners
United Way of Greater Union County partners with non-profits and government agencies throughout the county to help deliver the human services our community needs. Over 55 organizations have joined our Community Resource Network, each filling a vital role connecting individuals and families of Union County, North Plainfield, and South Plainfield to the support they need.
Community Resource Network members work to support families and individuals by building a continuum of care – providing critical services ranging from pre-natal health classes to strengthening the life skills of the families in our community. The Network helps the people in our community build a stronger support system, assists them through crises, and works with them to create long-term stability and self-sufficiency for their families.
ARC of Union County
Atlantic Health/Overlook Hospital Family Service
Boys & Girls Clubs of Union County
Brand New Day
Bridgeway Rehabilitation Services
CASA of Union County
Catholic Charities
Central Jersey Legal Services
Community Access Unlimited
Community Service Association of New Providence
Contact We Care
Cranford Family Care Association
Dept. of Children and Families: Div. of Child Protection and Permanency-Union County Office
Families and Communities Together
Family Promise
Family Support Organization of Union County
Good Grief, Inc
Groundwork Elizabeth
Holy Redeemer Home Care
Jewish Community Center of Central NJ
Jewish Family Services of Central New Jersey
King's Daughter Day School
Lifetime Support, Inc,
Literacy Volunteers of Union County
Neighborhood Health Services Corp.
Neighborhood House Association
New Jersey Parents Caucus
Occupational Center of Union County
Plainfield Area YMCA–Plainfield
Planned Parenthood of Greater Northern NJ
Rahway Community Action Organization
Rahway Day Care Center
Resolve Community Counseling Center
Resolve Ministries, Inc.
Roselle Collaborative for Youth and Families
Roselle Day Care Center
Sage Eldercare, Inc.
Salvation Army
Second Street Youth Center
UC Div. of Social Services
Union County College
Union County Department of Human Services
United Family and Children's Society
UPC Behavioral Healthcare
Westfield Area Y
YM & YWHA of Union County
YMCA Central Jersey
Youth and Family Counseling Services
YWCA of Central Jersey
YWCA Union County
United Way oversees the network of Family Success Centers in Union County. Family Success Centers are community-based gathering places where any resident can go for family support, information, and services. The purpose of the Centers is to enrich the lives of children and adults by helping their families and their neighborhoods succeed.
The services are tailored to meet the specific needs of each community. Among the services the Centers provide are:

Child-care access, Maternal and family health information, Development of family success plans, Self-sufficiency/employment services, Information and referral services, Life skills training, Housing services, Parental education, Parent/child activities, Advocacy, and Home visitation
Family Success Centers in Union County
Homefirst Family Success Center
Jefferson Park Ministries Family Success Center
Linden Family Success Center
Roselle Family Success Center
Community Services

Basic Needs / Assistance

Community
Last Updated: 09/08/23